West Creek participates annually in the exciting Six Flags Theme Parks'-sponsored Read to Succeed program, which encourages students in grades K through 6 to read for fun.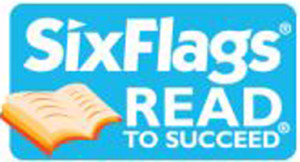 In order to qualify for the free (non-transferable) admission ticket valid at Six Flags Magic Mountain Theme Park, students must complete 6 hours (360 minutes) of recreational reading. Your child can read books, magazines, newspapers, and comic books, but note that reading for a homework or a class assignment does NOT count toward the total. Students can read silently, aloud, or with an adult--you can read to your child, or your child can read to you.
2018-2019 Read to Succeed Student Reading Logs will be distributed to students when they return to school after Winter Break.
Any questions? Send a message using the contact form on this page (be sure to select "Read to Succeed" from the pull-down).